Site Guardian
Saving Your Site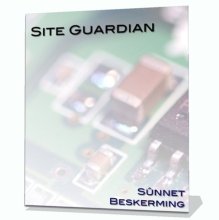 Buy Now!Many website operators and administrators are in the dark when it comes to the state of the art attacks that hackers are using to try and gain control of their sites. Not only do they not know about the attacks being used, but they are also not aware of the weaknesses that have been identified in the software that they are using to maintain and present their site.
It is an unfortunate fact that once a site has been successfully attacked once, it will attract more regular probing and attack by other hackers, with many of them looking for greater control over the victim's site.
S?nnet Beskerming's Site Guardian is the ultimate solution for the peace of mind of administrators and operators. Providing regular guidance and notification of emerging attack methods, weaknesses in common website tools, rapid notification of website attack (within 12 hours), and some forensic services, Site Guardian is a valuable tool that all administrators and operators should have in their arsenal.
Delivered whenever an issue is detected and analysed (even if it is in the middle of the night, or on a public holiday), you can rest easy, knowing that S?nnet Beskerming's dedicated staff are busily hunting down and reporting on issues that affect your site.
Check out this brochure if you want more information before you buy.
What's It Going To Cost?
Costs are presented ex. GST for Australian and New Zealand clients, and are presented in USD for clients in the rest of the World.
Know More
24 June 2007